---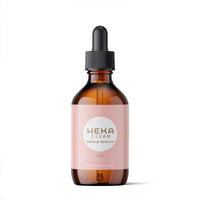 HEKA Clean Makeup Remover is a safe and effective solution for your skin. Free of harmful chemicals, the 2 oz Makeup Remover contains three natural ingredients: organic argan oil, tea tree oil and lavender oil. 
Organic Argan Oil is known for its antioxidants and anti-inflammatory properties. Argan oil naturally removes makeup without clogging pores or glands. This hydrating oil moisturizes and nourishes the delicate skin around the eyes.
Therapeutic-Grade Tea Tree Oil is known for its anti-bacterial and anti-viral properties. Tea tree oil also prevents demodex, or mites that tend to grow on eyelashes.
Therapeutic-Grade Lavender Oil provides a soothing and calming effect. This essential oil also contains antiseptic and inflammatory properties. 
How to apply – Wash hands and remove contact lenses prior to use. Dispense 5 or so drops onto a cotton pad. Gently wipe off eyelid and eyelash area.