---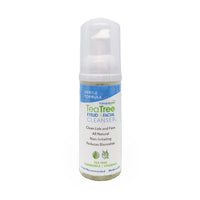 Formulated to be non-irritating to the eyes, the tea tree concentrations cleanse, hydrate and soothe. Helping to manage demodex, Tea Tree Eyelid & Facial Cleansers are doctor-recommended for use on the eyelids and face twice daily for optimum results.  
Infused with naturally hydrating ingredients, chamomile and shea butter, these cleansers gently remove all dirt and make-up and leave the skin feeling smooth, silky and refreshed. Made in the USA and formulated without the use of parabens. All formulas are vegan and gluten-free.
The 50ml bottle will provide approximately 90 one pump applications.