---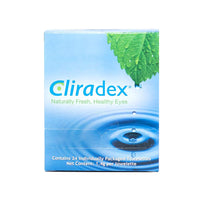 Cliradex, a preservative-free, all natural lid, lash and facial cleanser with 4-terpineol (derived from tea tree oil), is a game changer in your management of blepharitis, demodex, dry eye and rosacea. 
Cliradex is simple and easy to use. First wash hands and face prior to opening. Tear open packette at the perforated edge and unfold the towelette. Close the eye tightly, without squinting and gently cleanse the eyelid and surrounding facial area with a lateral side to side motion. Avoid formulation and towelette getting inside of the eye. Flip the towelette over, and repeat for the other eye. Detailed instructions on the box.
1 box contains 24 individually wrapped towelettes.